Community springs prisoners in Jail 'n Bail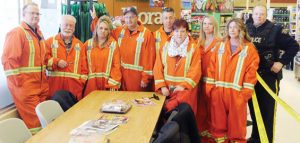 By Rob Vogt, Local Press Writer
It was a sad day in Claresholm.
On Saturday, March 31, some of the community's most prominent leaders were led to their jail cell in irons for the whole town to see.
Calling themselves the "Goodwill Gang", these outlaws were corralled and arrested by Corporal Dalyn Orsten of the Claresholm RCMP and locked up at the IGA, with bail set at $100 for each of the eight prisoners.
The only way Doug MacPherson, Kieth Carlson, Todd Heggie, Beth Roemmele, Barbara Bell, Natalie Wright, Santanna Thom and Jason Hemmaway could gain their freedom was to post that bail, or more, by 3 p.m.
So, frantically the prisoners worked their phones calling friends and family, imploring them to post bail.
Some responded in force.
Kieth Carlson, who was a town councillor before his incarceration, had his mother post exactly one cent.
She told him as a boy that if he ever got into trouble, all she would give him for bail was a penny.
Hence, a penny was donated.
All of this was in a good fun, a Jail 'n Bail, organized by Sean Kelly and Jason Hemmaway to raise money for the upcoming junior prom at Willow Creek Composite High School.
When the smoke cleared, a total of $3,025.91 was raised, the one cent coming from Kieth Carlson's mom Lis.
He was also brought in the most money, with $501.91. Natalie Wright was second with $414.90.
Kelly said he was overwhelmed by the response to the Jail 'n Bail.
They had set a minimum bail of $100 per jailee, which would have netted $800. They thought $1,000 would be a realistic target, so more than $3,000 was beyond expectations.
"It just shows how the community comes together for something like this," he said. "It was just amazing."
"To raise over $3,000 is huge."
For him, one thing will always stand out.
"The highlight was them coming  there in their orange jump suits and cuffs," Kelly said.