Cobras stage thrilling comeback to win tournament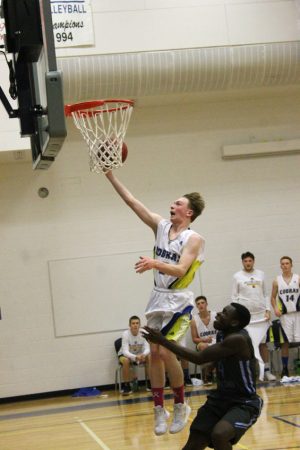 By Rob Vogt, Local Press Writer
It was one of the greatest comebacks in the history of Claresholm boys basketball's Cobra Classic.
On Saturday night, Jan. 6, trailing by as many as 19 points part way through the third quarter, the Willow Creek Composite High School Cobras senior varsity boys' basketball team came all the way back, overtaking the Millwoods Christian Royals with less than a minute to go on a lay-up by Grade 11 player Cole Dixon to win the tournament.
Using a blanketing defence to collapse the middle and bottle up Claresholm's scorers, the Edmonton team led 25-18 after the first quarter and 45-37 at halftime.
The Royals seemingly broke open the game in the third quarter, scoring in a barrage and pushing their lead to 19 points.
But, the Cobras had other ideas, and slowly chipped away at the lead.
By the close of the third quarter, Claresholm had closed the gap to just three points, trailing 62-59.
The teams went back and forth throughout the final period, and it seemed every time the Cobras looked to tie or take the lead, the Royals had an answer.
That all ended when Dixon got the ball in the clear with just under a minute to play, and gave the Cobras their first lead. Nic Harder would hit two foul shots late to ice the game, and give the Cobras an improbable 86-83 win.
Harder led the Cobra scoring with 32 points; Jean Pierre Ortero Rodriguez had 19 points; Dixon had 16 points, with 11 coming in the fourth quarter alone; Ross Van Rootselaar had 10 points; Ethan Watt had four points; Tason Perry had three points; and Logan Currie had two points.
Claresholm advanced to the final by defeating a scrappy Livingstone Sabre team from Lundbreck on Saturday afternoon by a score of 67-38.
The Cobra scorers were Rodriguez with 24 points; Van Rootselaar with 13 points; Harder with 11 points; Currie and Daxton Woodward with five points each; Jackson Wright with three points; and Kenneth Borebor, Dixon, and Watt with two points each.
The Cobras opened the tournament Friday night, Jan. 5, with a 103-34 win over Peace River.
Scoring for Claresholm were Harder with 23 points; Dixon with 19; Van Rootselaar with 16; Rodriguez with 15; Woodward and Wright with seven each; Aarron Wutke with six points; Ethan Perry with five points; Tason Perry with three points; and Watt with two points.
Strathmore defeated Livingstone School in the third place game earlier Saturday night.
The tournament, held Jan. 5 and 6 at the Willow Creek Composite High School gym, welcomed Eagle Butte of Dunmore; Strathmore; Picture Butte; Peace River; Livingstone School of Lundbreck; Three Hills; Millwoods Christian of Edmonton; and the host Cobras.