Claresholm Bantam Thunder wins 11-3 game over Picture Butte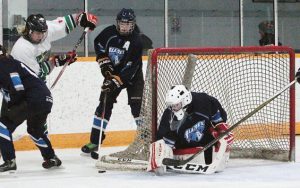 By Lawrence Gleason, Local Press Writer
Claresholm did well in Bantam Tier-4 action against Picture Butte Friday, Jan. 5, with an 11-3 victory, following up on a 7-4 win the last time the two teams met this season.
Picture Butte opened the scoring at 12:58 on a power play goal, answered by Claresholm at 11:15, with a goal by Jace McPeak-Young from Brandon Creighton, and halfway through the first period it was tied, 1-1.
Not until 5:45 did the stands of about 50 spectators watch Claresholm score five goals in three minutes. If you went for your hot dog and coffee early you might have missed it.
McPeak-Young scored again at 5:45, followed by Jack Austin at 4:17, Brandon Creighton at 3:31, Haze Gillingham at 3:03 and nine seconds later Mike Billyard made it 6-1, Claresholm.
"That was one of the better periods they had all year. They came out very strong," said Coach Ryan Hall.
In the second period Brandon Creighton scored twice for Claresholm for his hat trick, at 13:13 and 12:22. Picture Butte closed out the scoring in the period at 5:30 and it was 8-2, with a period to play.
Brandon Creighton knotched his fourth of the game at 19:37 from Haze Gillingham, and Picture Butte scored at 18:01 on their second power play goal of the game and the last goal they would score in this one.
Claresholm finished the scoring with two more goals, Mike Billyard scoring his second at 15:00 from Tristen Mackin and Colton Symens who, with Haze Gillingham, also had a hand in the final goal of the game as Brandon Creighton made it 11-3 Claresholm at 2:18 while completing a five-goal effort.
"They did well," said Coach Hall. "They were passing better. Everyone clicked in this game. Everyone contributed."
The team will play much of the rest of the season on the road with playoffs beginning the third week of February.