Walking dead take to the streets for the Zombie Walk on Friday
By Rob Vogt, Local Press Writer
Beware the walking dead as Halloween approaches. Just a simple scratch or a bite could change your life forever.
The Claresholm Local Press, Claresholm and District Family and Community Support Services, Your Dollar Store with More and North and Company Law Offices are putting on the third annual Zombie Walk on Friday night, Oct. 13, with all proceeds going to KidSport Claresholm.
"This is a family friendly event," said Amanda Zimmer, general manager of the Local Press.
Last year, the Zombie Walk attracted 67 participants to roam the streets of Claresholm.
Registration starts at 6 p.m. in downtown Amundsen Park, where participants will be asked to sign a waiver form.
There is also pre-registration at all four of the above organizations as well as the Claresholm Aquatic Centre and it is included on the community bingo card available around town.
There is no registration fee, but a suggested donation of $10 per person or $20 per family is welcome, with all proceeds going to KidSport Claresholm.
New this year, Rainbow Smiles will be doing face painting starting at 5:30 p.m. in the park, sponsored by North and Company.
The walk will start at Amundsen Park at 7 p.m., led by Town of Claresholm staff.
The walk is right around dusk, so participants may want to bring flashlights.
There will also be security and barricades along the route.
Zombies will head south on Third Street to 46th Avenue West.
From there they will turn east for one block, then head north on Second Street West, and head back east on 49th Avenue to Highway 2 north.
All walkers will stay on the sidewalk by the highway.
They will then come down 50th Avenue back to Amundsen Park.
Walkers can also enjoy the houses decorated for Halloween as they make their way through town.
Awaiting walkers in the park will be Halloween music, decorations, treats, and food.
Your Dollar Store with More will be selling with $2 hot dogs, and more.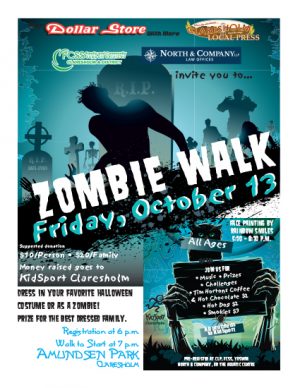 Tim Horton's will be on site again this year with their truck, selling coffee and hot chocolate for $2 a cup, with all money from sales going to KidSport Claresholm as well.
However, they cannot accept debit or credit cards, so people are urged to bring cash.
The prizes for the Town of Claresholm's "Where Community takes Root" community bingo game will also be awarded at this time.
Families are encouraged to come out and dress up as zombies, or in their Halloween costumes.
There will be judging for the best zombie family, a door-prize draw, and a raffle for a family ski package.
Volunteers are also needed to help direct zombie traffic along the route, and help with the evening setting up, decorating and cleaning up.
The walk should last about 20 minutes, with people of all ages welcome.
If anyone just wants to come to check out the costumes, or the festivities in the park, but not go on the walk they are welcome to do so.
Zimmer invites everyone to check out the third annual Zombie Walk.
"It's a fun, family activity," she said. "That supports KidSport."
That organization supported 58 families last year with $8,900, and 46 families so far this year with $6,736.
"Every dollar raised helps youth in our community participate in extra-curricular activities," Zimmer said.
Anyone interested in more information, or volunteering, can contact Amanda Zimmer at 403-625-4474.