Local performer putting together quite a resumé of activity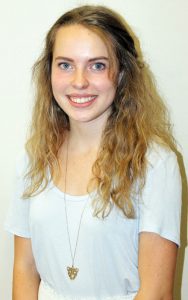 If there has been a musical production in the area, a local actor has likely had some part in it.
The same was true at last week's auditions for the Claresholm Arts Society's production of, "Back to the 80's", when Cassidy Wynia was trying out for one of the parts available.
It all started three years ago when Wynia was in Grade 9 and the arts society was staging its first musical, a production of, "Fame".
"I'd never done musical theatre," she said.
They needed extras for "Fame", so she signed up, and even had a few lines.
"It got me interested," she said. "After 'Fame', I decided to get piano and singing lessons."
So, she enrolled with Andrea Fankhauser to learn piano, and Rosie Sadlier to learn singing.
In the meantime, the arts society had begun casting for its next production, "Little Shop of Horrors."
Wynia, who was now in Grade 10, auditioned and got a part as one of the doo-wop girls.
"That was pretty exciting," Wynia said. "There was a lot of singing."
She found she still liked musicals, so in the spring of Grade 10 she ventured up the highway and auditioned for "Mary Poppins" at the Windmill Theatre Players in High River.
Wynia landed several roles including one scene to herself, where she played a statue who comes to life.