Claresholm man, the town's only naval casualty of World War Two, remembered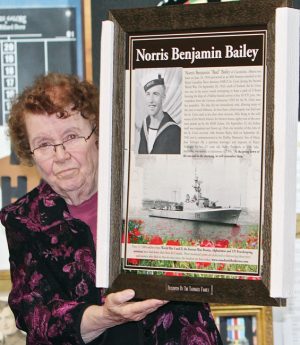 By Lawrence Gleason, Local Press Writer
About 50 men from Claresholm served  in the Canadian Navy in the Second World War.
The only one of those killed in battle was remembered at the annual Veteran's Banquet at the Royal Canadian Legion, Claresholm Branch, last Sunday, Nov. 5.
That history was presented by Rae Trimble, who is related to that sailor, Able Seaman Norris Benjamin "Bud" Bailey.
Bailey, born in June 1918, was the son of Claresholm-area residents Janie Davies and Ben Bailey, who died in 1918 in the emergency influenza hospital that was set up in the Claresholm School of Agriculture, the location of the present Claresholm General Hospital.
Janie Davies Bailey remarried in 1921 to Harry Taitinger and they lived in the Starline District.
Taitinger is a relative of Trimble's, her mother's eldest brother, and Bud was his step-son, growing up on the Taitinger farm and attending the Starline School.
During the Second World War, Bud and his brother Don went to Calgary and enlisted in the navy, training on the HMCS Tecumseh.
Bud trained to be an ASDIC operator, a sonar device then used to locate underwater obstacles. In June 1943 he was assigned to the ill-fated St. Croix, a destroyer with the Newfoundland Escort Force.
In mid September 1943 the St. Croix was mid-ocean with an escort group and on Sept. 20 the convoy was attacked by a German submarine, U305, that struck the St. Croix with special torpedoes of a new type, designed to home in on the sound of ship propellers.
The St. Croix was sunk.  The men in the water and on the lifeboats expected to be rescued early the next morning and many were, by HMS Itchen, a British naval frigate, picking up 81 St. Croix survivors, five officers and 76 man, about half of the St. Croix crew of 147. The survivors had been in the cold mid-Atlantic waters for 13 hours.
On Sept. 20 the HMS Itchen was itself struck and blown up by the same type of German torpedo. As a result, only one of the St. Croix crew and two from the Itchen survived.
The sinking of the St. Croix marked the largest single loss suffered by the Royal Canadian Navy to that point in the war.